Capacitive touch solutions customization
Capacitive touch screens are currently the most popular products in the display industry and are widely used in mobile phones and tablet PCs. The ability to scroll, zoom and pinch is an experience that cannot be matched by resistive capacitive screens.
Capacitive touchscreens have also come a long way in industrial displays in recent years, but unlike consumer products, they are used in a much wider and harsher environment. The performance of capacitive screens is put to the test.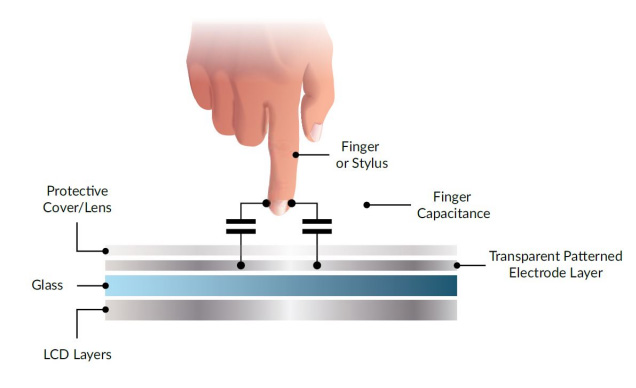 Disea designs and manufactures capacitive screens with a G+G structure, which is more stable and better suited to industrial displays.
Therefore, our cover lens is usually glass. To find out more about cover lenses, click here.
Capacitive touch controller:
This is critical to the functionality you want to achieve with a capacitive screen. Typically, consumer capacitive touch controllers have a short lifecycle, they are highly biased and often cost optimised, and as market demand changes, these capacitive touch controllers may have to be redesigned or discontinued and their lifecycle may be only 2-3 years. In contrast, industrial capacitive touch controllers are more concerned with robust performance and longevity. This means that a particular driver IC can be available for up to 10 years or more without any changes. This is what industrial displays demand and what you want. Once developed, your product will not require any future changes.
Interfaces:
Capacitive touch controllers typically have I2C and USB interfaces for communication. We can also provide you with both interfaces in the same product. Where USB can be directly adapted to Windows and Linux systems, this saves a lot of development time.
Electromagnetic compatibility, ESD, etc.
| | | |
| --- | --- | --- |
| ITEM | Description | Value |
| IEC CI/CS test classes | Conduction test, standard classes 1-3 | 1V, 3V, 10V |
| ESD test level | Air discharge/contact discharge | Air ±15KV Contact ±8KV |
| EMI test level | EMI peak level,average level | Class A/Class B/Class C |
Gloves touch:
Industrial displays are used in harsh environments, sometimes requiring workers to wear gloves, so it is important that capacitive displays support glove mode. There are many different types of gloves, from simple ones such as medical latex gloves to thicker rubber and cotton gloves, and we will adapt reliable software for use in time. Sometimes there is water mist, water droplets etc on the surface and such applications can be handled perfectly.Glove and water contact.