IPS LCD panel & wide viewing Technology introduction
Wide angle design of the product, allowing the user to see the display content from any angles when watching the monitor.Increased performance of the product, increased contrast, color, brightness level etc,.
In-Plane Switching (IPS)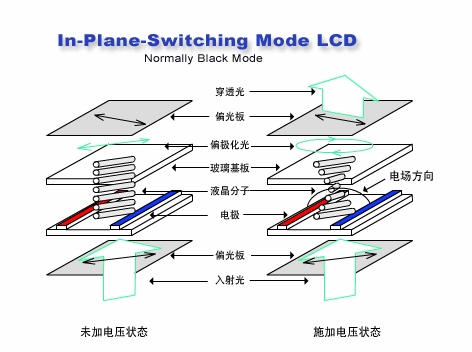 In-Plane Switching (IPS LCD)was developed by Hitachi Ltd. in 1996 to improve on the poor viewing angle and the poor color reproduction of TN panels at that time. Its name comes from the main difference from TN panels, that the crystal molecules move parallel to the panel plane instead of perpendicular to it.
This change reduces the amount of light scattering in the matrix, which gives IPS its characteristic wide viewing angles and good color production.Initial iterations of IPS technology were characterised by slow response time and a low contrast ratio but later revisions have made marked improvements to these shortcomings. Because of its wide viewing angle and accurate color reproduction (with almost no off-angle color shift), IPS is widely employed in high-end monitors aimed at professional graphic artists, although with the recent fall in price it has been seen in the mainstream market as well.
The viewing angle comparison of IPS lcd and regular tft lcd.
IPS LCD --full viewing angle:Perfect display effect in all viewing direction, without color conversion.