Capacitive touch panel with two different assembly methods
aTouch:
is a capacitive screen and a display of exactly the same form factor. Resistive touchscreens are usually as large as LCD displays because they are assembled in such a way that the display is mounted from the inside of the device and the opening in the case is the display and touch area. Now, we still have a need for aTouch for devices that are only upgrading the display and the panel needs to be the same size as the display. It has the same technical advantages as uxTouch and also supports multi-touch, but it is designed for older machines. We currently have aTouch modules in several sizes such as 3.5", 4.3", 5.0", 7.0.", 9.0" and 10.1".
uxTouch
Today, most newly manufactured devices feature the uxTouch panel. It is slightly larger than the display, or much larger, and it can be affixed to the steps of the case by means of a cover glass. The part that is larger than the display we call the black edge. We can even add through-holes, transparent holes, silk-screening, extra buttons, etc. to the black edge to make its presence more meaningful.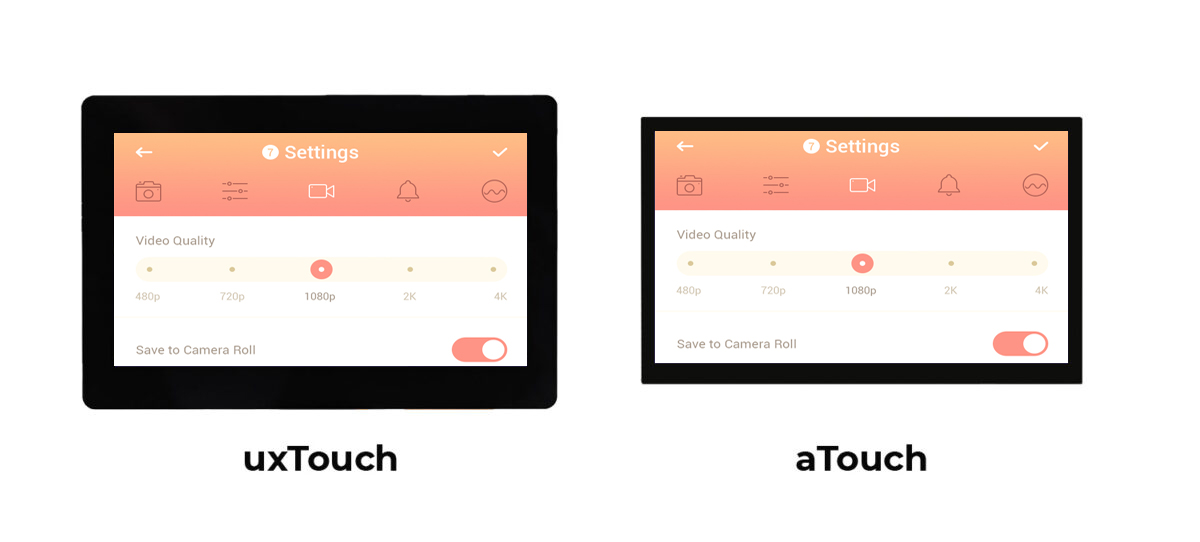 Both uxTouch and aTouch are specially designed LCD TFT displays with projected capacitive touch (PTC). As they have an absolutely flat design and multi-touch functionality, they are the best choice if you want an interactive design and technology. They feature chemically strengthened glass, which has increased durability and strength due to the ion exchange process. Our products support up to IK10 rated drop ball tests and are extremely robust. The glass covers are again easy to assemble, easy to clean and easy to realise your design in you.
A very important feature of both uxTouch and aTouch is the ability to customise the glass to different thicknesses for different requirements, which was not possible with previous resistive touchscreens. Our engineers will be happy to tune this for you. Our regular cover glass thicknesses are: 0.55mm, 0.7mm, 1.1mm, 1.8mm, 2.0mm, 3.0mm, 4.0mm. note that all glass below 3.0mm is optical glass with good transmittance and very few impurities, making it a very good material for display panels.